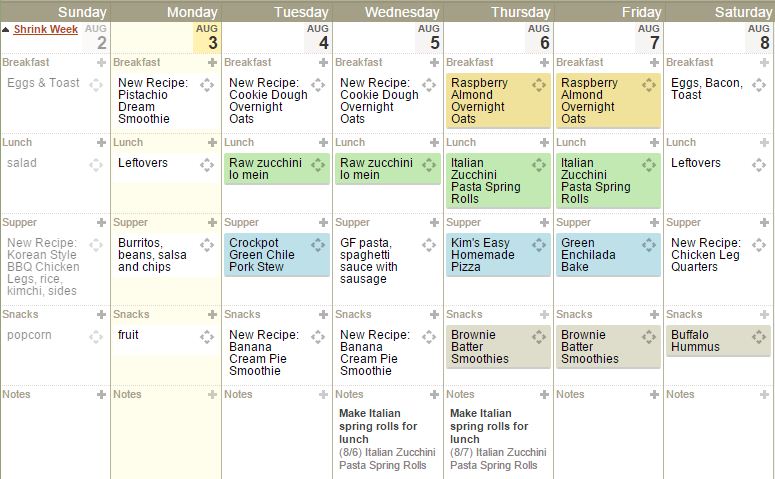 Time for the weekly meal plan! If you're new to Frugal Foodie Moms, here's the deal: every week, I check my fridge, freezers, pantry and garden, then check the sales and plan my meals around what I have and the great deals for the week. I make my meal plans with Plan To Eat, a great online recipe book and meal planner. I then print out my shopping lists, and hit the stores in the "Deals" section below.
So you can come shopping with me every week, see what I find and what I make out of it, which will hopefully give you some ideas for your own frugal meal plans. I would love to hear what you're making this week! Let me know what worked, what didn't work in your house. You can see all of my Meals & Deals posts here.
Yes, I cook a LOT. I love to try new recipes and also create them. We eat a lot of leftovers, but they are usually things we like. We don't eat out much. It used to be about cost, but any more, it's about quality. I can't tolerate processed foods much any more. I don't know what they're putting into things lately, but it doesn't taste or feel right. We do try to eat as healthy as we can, with lots of real foods, and organic whenever possible. Some weeks we do better than others. I don't always get everything on my plan cooked. I shoot for 80%, and can usually hit it.
Meals:
This week I'm taking it a little easier. My husband and I both ended up really sick at the end of last week. I'm not sure if we both had the flu triggered by working in the heat, or if we both got heat exhaustion somehow. We work outside a lot, so it took us both by surprise. It also took us both down really fast. Needless to say, a lot of stuff didn't get done (or cooked!)
I still managed to work on some new smoothie and chicken recipes, with plenty of "helpers" and taste testers. Some of these new recipes might end up in the Test Kitchen first. Seems like there's a little tweaking to do. I'll have the others up soon and will be linking to them as I get them up.
New Recipes I'm working on:
Test Kitchen: "Boogie Chicken"- Korean Style BBQ Chicken Legs
Pistachio Dream Smoothie
Cookie Dough Overnight Oats
Banana Cream Pie Smoothie
Something with Chicken Leg Quarters- I'll be doing new combos every week or so. I hit a great sale and have tons of ideas!
Recipes I'm trying:
Raw Zucchini Lo Mein
Green Enchilada Bake
Buffalo Hummus
Everything Else:
Crockpot Green Chili Pork Stew (so good!)
Raspberry Almond Overnight Oats 
Italian Zucchini Pasta Spring Rolls 
Kim's Easy Homemade Pizza
Brownie Batter Smoothies
Deals: 122.10
I'm still finding it very challenging to stay at $100/week for groceries. I just can't seem to hit it. It seems like we are averaging about $125/wk or $500 a month lately. For the last two years, it's been about $400 a month. Prices continue to climb and I continue to find new ways to stretch things. I rarely use coupons, because most of them aren't for the things we actually eat, or the savings aren't what they used to be. But looking at my receipts, I did pretty well. I bought over 75 pounds of meat and 8 gallons of milk this week!
There were some great sales this past week. Kroger still had chicken leg quarters for .49/lb through Wednesday, so I snagged some more a bit early (I usually shop on Fridays). I also found milk on sale for .88 a half gallon and pork arm roasts for $1.49/lb. Needless to say, I stocked up!
Aldi, not to be outdone, dropped their milk gallon prices to $1.69 ea, so I got a few more. It's safe to say we're set on milk for a while. I think it might be time to make some yogurt at those prices! I also found stevia on sale cheaper than I've ever found it anywhere. We try to stay as sugar free as possible, so we go through the stevia. I picked up two large bags for $3.69 each!
Aldi is always coming out with interesting things. This week I found gourmet olive oils that looked delicious (but at $4.99 were out of the budget this week) and these chocolate covered banana pops which would probably be easy and cheaper to make at home. Maybe it's time to make some popsicles!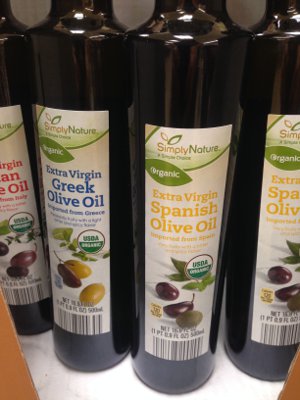 Kroger: $72.56
1 bag Tostitos tortilla chips $3
1 loaf artisan rosemary potato bread (deli clearance) 1.79
3 Liberte yogurts @ $1 ea
1 lb pepper jack cheese $2.99
16.5 lbs boneless pork shoulder roasts @ 1.49/lb
60 lbs chicken leg quarters @ .49/lb
8 1/2 gallons whole milk @ .88 ea
Aldi: $37.08
4 gallons milk @ 1.69 ea
2 large pouches stevia @ 3.69 ea
2.8 lbs bananas @ .39/lb
1 pkg sliced ham 3.29
1 lb shredded mozzerella 2.99
1 pkg pepperoni 1.99
1 lb roma tomatoes 1.29
1 large can coffee 5.49
1 jar maraschino cherries 1.69
1 bottle wine 3.99
Walmart: 12.46 (recipe development!)
1 bag pistachios 7.48
1 can whipped cream 2.88
1 pkg oreos 1.98