Meet Baby Foodie. He keeps me hopping around here, along with his older brother, Little Foodie. They love to be in the kitchen with me, which means they're often into everything as I'm cooking. Little Foodie, my four year old, is my constant shadow, and you'll see him in a lot of the pictures on Frugal Foodie Moms.
Baby Foodie marches to the beat of his own little drum. He currently loves to climb anything so he can chew on everything. He's like a puppy some days, only more agile. And he gets hangry (hungry when angry), so we try to keep him well fed at all times. If he isn't, he will certainly let us know!
So last Monday was Baby Foodie's 2nd birthday. We try to keep the sugar out of our household for the most part. It finds its way in, through the usual graham crackers and occasional cookies or ice cream. We rarely eat out, and we really do try to keep things as healthy as we can at home without being too rigid about it.
I wanted to do a Oreo cookie pie for him that was fairly healthy (obviously Oreos aren't!), but every recipe I found was packed with fake ingredients. Pudding mixes, hydrogenated whipped topping, etc. The cookies themselves were bad enough. I could have kept it simple and just gone with cookies and cream ice cream, but noooo. I had an idea. (Somehow, I always do!)
Why not use yogurt for a cream pie filling, with broken up cookie pieces? I was already working on a smoothie like that which turned out really good.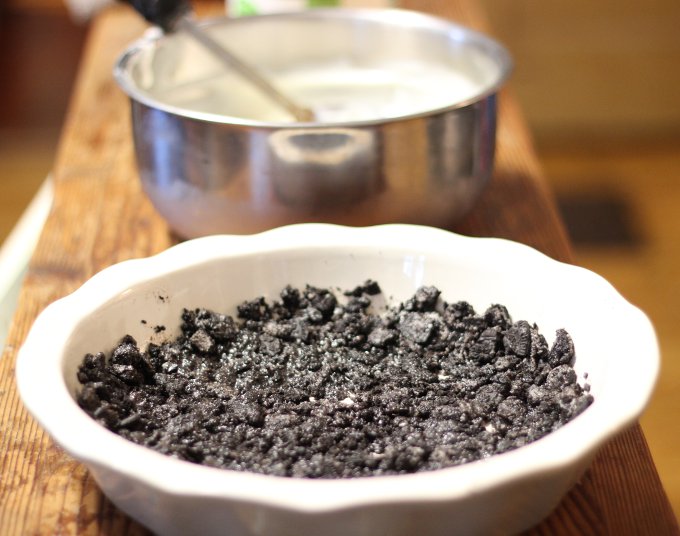 So I grabbed some organic vanilla yogurt at Kroger as well as some plain yogurt just in case. Since the vanilla yogurt was sweetened already, and the cookies are very sweet, I wondered if the combination would be too overpowering. I used 1/2 vanilla yogurt and 1/2 plain yogurt, hoping for a little more of a tangy, cheesecake taste. We made a (generic) Oreo cookie crumb crust with butter, topped it with the filling, then froze it for two hours. I added real whipped cream and cookie crumbles to the top. It looked cute. But how would it taste?
Well, the results were…interesting. We ate it, but no one was scarfing it down. It was just too "tangy" from the plain yogurt, and there were too many cookies for my sugarless crowd. So it ended up being too tangy AND too sweet!
My notes for next time:
Grind cookies down into a powder for a crust. (They were too thick and chunky from crushing them in a bag, though it was fun!)
Use more vanilla yogurt and less plain.
Use less cookies.
Update: This was excellent after a day or two in the freezer. Hard as a rock at first, but when it thawed, it was delicious. Still a bit tangy, but definitely good.
Here is the original recipe. I'm going to continue to tweak this one in hopes I can come up with a "somewhat healthy" cookie pie (oxymoron, I know!) that tastes good and isn't entirely bad for you.

Birthday Cookie Pie for Baby Foodie's Birthday
My first attempt at a "healthy-ish" cookie pie for my son's second birthday. The results were...interesting!
Ingredients
1-2 bags of oreo-type chocolate sandwich cookies
4 tbsp butter (1/2 a stick)
2 cups vanilla yogurt
2 cups plain yogurt
whipped cream
Instructions
CRUST:
Put 10 cookies in a thick plastic baggie and seal well. Beat with a large spoon or mallet (kids love this!)
Melt butter in a deep glass or ceramic pie pan in microwave.
Add cookie crumbles, mix thoroughly. Press into bottom and sides of pie pan.
FILLING:
Put 15 more cookies into a thick plastic baggie and beat with a large spoon. Set aside.
In a large bowl, mix together plain and vanilla yogurt, then mix in cookie crumbs.
Pour into pie pan, on top of crust.
Freeze for 2 hours or until hardened.
TOPPING:
Crush a few more cookies and set aside.
Top with whipped cream, then sprinkle with cookie crumbles.
Add whole cookies for decoration if you like.
Notes
This is a test recipe, and definitely not perfect! My observations after trying it are to:
Grind cookies down into a powder for a crust. (They were too thick and chunky from crushing them in a bag, though it was fun!)
Use all vanilla yogurt or at least ¾.
Use less cookies.