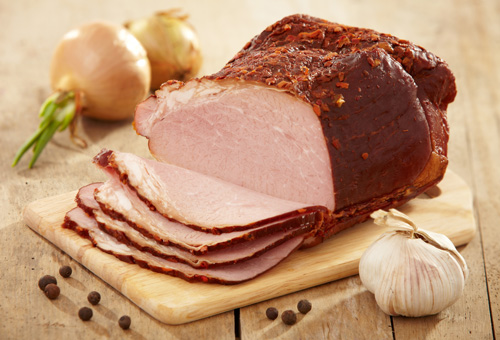 Here is my "Ham Plan." I am finding it easier and more economical to have bulk cooking plans for when meats and veggies are on sale or in season. I do a big cooking that lasts a few months (Hopefully! I am still new at this) so I don't have to cook that particular meat again for a while. I am hoping my chicken will last a while so I can focus on other meats. Here are some of the recipes I made around Easter (next time I will make a big ham or a few medium ones, last time the 20 pound ham was a bit hard to turn every half hour!)
If you try these recipes, please let me know how they turn out! I don't cook ham as often as I cook chicken and hamburger, so this plan isn't as "polished" as the other ones. Feel free to send your recipes, comments and suggestions; I will be happy to post them in the readers' hints and tips section! Happy cooking!
Day one
Cook the " Master Recipe," which in this case would be Honey Baked Ham or your favorite baked ham recipe. While the ham is cooking (this one takes a few hours!) chop the veggies and prepare doughs for tomorrow's assembly. Or, clean the house!
The master recipe:
Andie's Original Recipe for WPOPFHBH* Ham (Why Pay Outrageous Prices For Honey Baked Ham) by Andie Paysinger asenji@themall.net (I found this on the KitchenLink)
"Following is the ham recipe I developed originally for cooking "dry-cured" hams from my family's farm in Kentucky. These are usually quite salty as they are pre-cured in a barrel of salt before being hung in the smoke house. People in the south like saltier ham than folks out here so I experimented until I discovered this way of cooking them which actually extracts a lot of the salt. Then I discovered that very cheap store hams also come out nicely flavored when cooked this way. I always warn people to keep the heat low and the time long – as one doesn't get the same results with more heat and less time. I have cooked this for a lot of people and told quite a few people who have used this method and have yet to find anyone who has not found this to be just about the best ham ever."
This recipe (or cooking method) works really well with the absolute cheapest bone-in ham, the holiday "Loss Leaders" at 49, 59, cents a pound, sometimes less. DON'T GET THE SHANK END. For a 12 to 15 pound ham you will NEED the following:
(Kim's note: I bought a "country ham" which is more like a roast, and it was wonderful. Cub Foods had them on sale for 99 cents a pound; we got more than 20 meals out of 20 pounds.)
A deep roasting pan, dutch oven or deep baking dish just big enough for the ham to fit into with enough room to let you turn it over.
An Ice Pick! This is very important!
Maple syrup – I find it at Trader Joe's, a specialty discout grocery chain here in California or at Price/Costco and at Smart & Final. I am sure there is a similar source in your area. I usually buy a quart and use most of it.
Dry mustard, (Colemans) about 2 tablespoons.
Optional – Whole cloves to stick in the ham, but not necessary.
1. Trim any skin off the ham but leave some of the fat – less than 1/4 inch thickness. Score the fat down to the meat in a diamond or tic-tac-toe pattern, your choice.
2. Take the ice pick and stab the ham all over, and I mean many, many stabs. Use up some of your latent agression.
3. Take the dry mustard and massage it into the ham. If you must, stick whole cloves into the ham, as many as you want.
4. Put the ham in the pot. Pour in the maple syrup until it comes up at least 1/2 way on the ham, a little more won't hurt, it won't be going to waste.
5. Place the ham in a COLD oven and turn the temp control to 300 degrees F. Set timer for 30 minutes. After 30 minutes reduce heat to 250. and turn the ham over in the syrup.
6. Continue cooking for 3 hours for a 12 pound ham, add 30 minutes for each 2 pounds over that, turning the ham every 30 minutes. This is a long, slow method that will have remarkable results.
7. At the end of the baking time, remove ham from pot, allow to drain on a rack for 20 minutes, then slice.
Most of the salt in the ham will have been extracted through the stab wounds and the meat will have absorbed some of the maple flavor from the syrup. When the liquid left in the pot has cooled, strain it through a coffee filter and freeze it, you can use it two more times. After that it loses a bit of flavor or becomes too salty."
Kim's notes: This recipe is incredible! The ham just falls apart, appears more like a roast than those water-added hams at the store. Even the pickiest eaters in my family eat this and beg for more! They ask for it just about every night! There was a ton left over (I baked a 20 pounder! A little hard to turn every half hour, but well worth it!) This is better made on a day when you are not once a month cooking but are around the house, perhaps on a cleaning day or a once a month baking day.
When the ham cools, you need to divide it into the following:
slices (cut the biggest parts into this)
shredded (the outer part is best for this, whatever is falling apart)
cubed (chop up the small and weird shaped pieces)
ham bone for soup
I throw out the fat, can't think of a way to use it yet, any suggestions are welcome (see reader hint at bottom)! Package everything in Ziploc bags (double bag it!) or big containers with lids, put in fridge (or freezer if you can't get to it right away) and GO TO BED! You will be tired! (I got several Ziploc gallon bags FULL of meat!)
Day 2
Assembly day! Depending on how much you have, you can use the honey baked ham in any of the following. To reduce the workload, double or triple the recipes. If you run out of ham, try the others next time! If you run out of time, freeze the ham and assemble on the day you plan to cook it. (I keep an eye out for "quick and easy" dishes that are made with cooked meat and I try to always keep a few containers of cooked meat in the freezer for this purpose. I try to write the results on the recipe and whether it would be worth cooking on oamc day. Some recipes are so easy and good, they are better left as "emergency" recipes, when you have to get something on the table fast and want it fresh-cooked.)
Honey Baked Ham, to use in:
1) BBQ Pork
2) Baked Eggs
3) Ham and Cheese "Hot Pockets"
4) Split Pea Soup (haven't tried yet)
5) Creamed Ham on Cornbread Cakes (haven't tried but sounds good)
6) Sliced ham for sandwiches/dinner
7) Ham and Bean soup (haven't tried yet)
8) Scalloped Ham and Potatoes
9) Crustless Ham Quiche(haven't tried yet, picture looks delish!)
10) Impossible Ham Pie (all the impossible pies are great)
11) Linguine ala Anne
12) Mac-n-Cheese with Ham (looks good, haven't tried)
13) Hoppin' John Soup(haven't tried yet)
14) Radiatore Carbonara (haven't tried)
15) Grits Souffle' (haven't tried)
16. Healthy ways to use honey baked ham
17. Hints and tips from readers (you!)
Yes, there are quite few new recipes here; thought I would try a bunch this time, I will let you know how they turn out!
BBQ Pork (adapted from busycooks)
4-5 cups shredded honey baked ham
1-2 cups of your favorite barbecue sauce or ketchup
1. Put ham in crockpot, pour barbecue sauce or ketchup over it (I include ketchup because the ham already has a sweet, smoky flavor, it doesn't need a lot of barbecue seasoning to be good).
2. Cook on low for a few hours, until flavors blend, checking to make sure it doesn't burn (if the edges burn, it still tastes great!)
3. Serve open faced on bread or in a hamburger bun or kaiser roll. Very good, very easy, freezes well!
Baked Eggs (my adaptation from the Once a Month Cookbook)
This is huge, you can divide it in half if you have a smaller family
6 bread slices, cut in cubes
2 cups of Velveeta, melted in microwave or cubed
2 cups cubed honey baked ham
1 cup steamed broccoli (or cook it in microwave)
6 eggs
3 cups milk
1. Mix bread, ham, and broccoli, spread in a 13x9x2 baking dish coated with non stick cooking spray. Whisk eggs and milk together, pour in melted Velveeta (not too hot or it will cook the eggs!). Cover dish with foil (or lid) and freeze. (If using unmelted Velveeeta just add to ham mixture before milk and eggs, the cheese will be concentrated instead of throughout.)
2. To prepare for serving, thaw dish and bake uncovered in a preheated 375 degree oven for 45 minutes. Makes 8-10 servings.
Kim's note: Also great mixed up the night before and refrigerated, then baked in the morning for Sunday breakfast!
Ham and Cheese Hot Pockets
I am guessing on quantities because I eyeball this one!
1-2 cups chopped ham
1 cup cheddar cheese, or use American cheese slices, they are moister
steamed broccoli (optional)
pizza dough
1. Prepare pizza dough. Use a turnover maker or just roll out the dough into squares, fill each with a little ham and cheese and another desired vegetable, don't overfill, as they will leak!
2. Seal edges with water, bake at 350 degrees for about 20 minutes on a greased baking sheet (those air bake ones are great for this!)
3. Eat, or freeze, then nuke 'em for convenience! Look in the freezer section of the grocery store for more hot pockets to clone at home!
Split Pea Soup with Ham (from busycooks)
1 lb split peas
8 cups ham stock
8 cups chicken stock
1 bay leaf
2 tsp thyme
1 onion – chopped
2 carrots – diced
2 ribs celery – diced
2 cups diced ham or smoked sausage
soy sauce
tabasco sauce
salt and pepper to taste
Rinse split peas and soak in water for 1 – 2 hours. Place in a large pot with the ham stock and chicken broth. Add bay leaf, thyme, and onion. Simmer, partially covered, for 1 1/2 hours.
Add ham, carrots, celery and simmer for an additional 1 – 2 hours, or until the peas have cooked into a smooth soup. Season with soy sauce, tabasco sauce, salt and pepper to taste. Yield: about 12 servings
NOTES: Don't toss out that ham bone. Use it to make stock for this soup. The two kinds of stock really makes this soup exceptional.
Kim's note: I haven't tried it yet, but it looks good, and just about everything I have tried on Lynn's site has been excellent! I would use bouillon cubes if you don't have chicken stock on hand (I have LOTS of chicken stock! LOL)
Creamed Ham on Cornbread Cakes (from Do Ahead Cooking, by Southern Living)
1/2 cup chopped celery
1/2 cup chopped onion
1/4 cup melted butter
1/4 cup all purpose flour
1/4 tsp salt
1/4 tsp ground white pepper
2 cups milk
1/2 tsp Worcestershire sauce
2 cups diced cooked ham
1/2 cup diced cooked carrot
1/2 cup frozen English peas, thawed
1 tbsp chopped fresh parsley
Cornbread cakes (recipe follows)
garnish: fresh parsley sprigs
1. Saute celery and onion in butter in a large skillet over medium heat until tender. Add flour, salt and pepper, stirring until smooth. Cook one minute, stirring constantly.
2. Gradually add milk and Worcestershire sauce, cook, stirring constantly until thickened and bubbly. Stir in ham and next three ingredients. Cool slightly.
To store: Refrigerate in tightly covered container for up to 2 days or freeze for a month (their estimates are VERY conservative, should keep fine for a few months).
To serve: Cook over medium heat until hot (or nuke it!) stirring often. Serve over cornbread cakes. Serves 4-6 (I would definitely triple this if you like it)
Cornbread Cakes
1 3/4 cups self rising cornmeal mix
1 egg, lightly beaten
1 1/2 cups buttermilk
2 tbsp butter
1/4 cup veg oil, divided
1. Combine first four ingredients in a large bowl, stirring just until moistened.
2. Heat one tbsp oil in a large non stick skillet over med-high heat. Pour 1/3 cup batter into skillet for each corncake, cooking 3 at a time.
3. Cook for 3 minutes on each side or until browned. Drain cakes on paper towels.
4. Repeat with remaining 3 tbsp oil and remaining batter. Cool completely.
To store: refrigerate cakes up to 2 days or freeze for one month in tightly covered container.
To serve: Place cakes on ungreased baking sheets. Bake at 350 degrees for 10-12 minutes or until thoroughly heated. (Or nuke 'em!) Makes 12 cakes.
Sliced ham for sandwiches/dinner: Pretty self-explanatory, we also microwave or bake slices (in Corningware dish, covered) until nice and hot, serving with mashed potatoes and green beans. This is a perfect quick and easy dinner and doesn't need a fancy sauce on top; it's great by itself!
Ham and Bean Soup (Do Ahead Cookbook)
1 pound dried Great Northern beans (navy beans)
6 cups of water
1 medium onion, chopped
2 cloves garlic, crushed
1 medium-size hot red pepper
1 bay leaf
2 tsp salt
1/2 tsp dried whole thyme
1/4 tsp pepper
4 medium potatoes, peeled and cubed
3 medium carrots, peeled and cut into 1/2 inch slices
2 cups chopped cooked ham
Sort and wash beans, place in a dutch oven. Cover with water 2 inches above the beans, let soak 8 hours.
Drain beans and return to dutch oven. Add 4 cups water and next 7 ingredients. Bring to a boil, cover, reduce heat and simmer 1 1/2 hours, stirring occassionally.
Add remaining two cups of water, potato, carrot and ham. Cover and simmer 30 minutes or until vegetables are tender. Remove hot red pepper and bay leaf before serving. Yield:10 cups
Scalloped Ham and Potatoes (Do Ahead Cookbook)
1/4 cup butter
1/4 cup all purpose flour
2 cups half-and-half
3/4 tsp salt
1/4 tsp ground white pepper
4 medium potatoes, peeled and thinly sliced
2 cups chopped cooked ham
2 small onions, thinly sliced and separated into rings
1/4 cup chopped green bell pepper
2 cloves minced garlic
1. Melt butter in heavy saucepan over low heat, add flour, stirring until smooth. Cook one minute, stirring constantly.
2. Gradually add half and half, cook over medium heat, stirring constantly until mixture is thickened and bubbly. Stir in salt and white pepper.
3. Spoon 1/4 cup sauce mixure into greased 10 inch oven proof skillet. Combine potato and remaining ingredients in a large bowl, stir well.
4. Layer half of potato mixture over sauce, top with half of remaining sauce. Repeat layers.
5. Cover and bake at 350 degrees for one hour or until potatoes are tender. Makes 8 servings.
Crustless Ham Quiche (Do Ahead Cookbook)
1 cup diced cooked ham
1/2 pound fresh mushrooms, sliced
1 tbsp butter, melted
4 eggs
1 cup sour cream
1 cup small curd cottage cheese
1/2 cup grated Parmesan cheese
1/4 cup all purpose flour
1/2 tsp dried whole dillweed
1/2 tsp dry mustard
1/8 tsp nutmeg
1/8 tsp pepper
1 cup shredded Swiss cheese
1/2 cup chopped fresh parsley
1. Cook ham in skillet over medium heat until lightly browned; set aside.
2. Saute' mushrooms in butter in skillet over medium heat until tender. Sprinkle mushroom and ham evenly into a greased 10 inch quiche dish.
3. Combine eggs and next 8 ingredients in container of a blender, process until smooth. Stir cheese and parsley into egg mixture, pour over ham and mushrooms.
4. Bake at 350 degrees for 40-45 minutes or until set. Let stand 10 minutes before serving. Yield: One quiche.
Kim's note: I would freeze this in a Pyrex casserole dish before cooking it, as cooked eggs sometimes have a weird texture after freezing. Thaw, and then cook.
HAM AND SCALLOPED POTATOES (from Betty Crocker's Cookbook)
4 cups peeled and sliced potatoes
3 Tbsp. margarine
3 Tbsp. flour
1 tsp. salt
1/4 tsp. pepper
2 1/2 c. milk
1/4 c. onion – finely chopped
2 c. chopped ham
Heat oven to 350 degrees.
Melt margarine and add flour, salt and pepper all at once. Stirring to make base for white sauce, blend and stir until mixture is smooth and bubbly. Remove from heat and stir in milk. Heat to boiling. Stir constantly and boil 1 minute.
In casserole dish, arrange 1/2 of potatoes in layer. Cover with chopped ham and onion. Top with remaining potatoes. Cover with white sauce. Cover.
Bake 30 minutes. Uncover and bake60 minutes or longer until potatoes are tender. Cool and Freeze. (I tripled this recipe and divided it into 4 8×8 pans)
Impossible Ham & Broccoli Pie
2 cans ham – drained
10 oz frozen broccoli – rinsed and drained
1 1/2 c cheddar cheese – grated
1 c milk
3 lg eggs
1/2 c Bisquick (r) baking mix
1/4 tsp pepper
1/8 tsp thyme
SAVORY TOPPING:
1/2 c Bisquick (r) baking mix
1/4 c sliced almonds
1/4 c grated parmesan cheese
1/8 tsp garlic powder
2 tbsp margarine
Heat oven to 400 F. Grease 10 x 1 1/2 inch fluted pie plate. Mix ham, broccoli and cheese in plate. Beat remaining ingredients, except Savory Topping, until smooth (15 seconds in blender or 1 minute with beater).
Pour into plate. Bake 20 minutes.
For topping, mix Bisquick, almonds, Parmesan cheese and garlic powder. Cut in margarine. Sprinkle pie with topping. Bake until knife inserted in center comes out clean, 15 to 20 minutes. Cool 5 minutes.
Kim's note: change the cans of ham to a couple cups of cubed honey baked ham.
I don't know how this will freeze, but it could also be a quick and easy dinner, whipped together with ham from the freezer.
Linguine a la Anne (from Once a Month Cookbook)
1 12-oz package linguine
2 tbsp butter/margarine
2 tbsp all purpose flour
1/2 tsp salt
1 12-oz can evaporated skim milk (you could use regular)
1 4-oz can mushroom stems and pieces, save liquid (I like fresh better!)
1 1/3 cups water
1 chicken bouillon cube
4 cups cooked, cubed ham
1/2 cup grated Romano cheese (imported is THE BEST!)
1 sliced red bell pepper
1 sliced green bell pepper
1 tbsp vegetable oil
1 cup seasoned croutons (I make my own)
1. Cook linguine in a large pot according to the directions, drain and return to the pot.
2. While the linguine cooks, melt butter or margarine in saucepan. Stir in flour and salt, adding evaporated milk. Bring to a boil, stirring constantly. Boil and stir one more minute.
3. Add liquid from the mushrooms, water and bouillon cube. Cook over medium heat, stirring cinstantly until slighly thickened and bubbly.
4. Add 2 cups of sauce and drained mushrooms to linguine, toss until well mixed. Spoon linguine mixture in to a 13x9x2 inch baking dish (may want to grease it), pressing it up to the sides and leaving a slight hollow in the center of the dish.
5. Toss ham into remaining sauce, spread it in the center of the linguine. Sprinkle with Romano cheese, cover with foil, and freeze dish.
6. Saute red and green bell peppers in vegetable oil until soft, allow to cool. Place in a 1 quart freezer bag, attach this bag and croutons (also in a 1 quart freezer bag) to dish.
To serve: thaw dish, peppers and croutons. Bake dish uncovered in a preheated 400 degree oven for 20 minutes. Before serving, sprinkle croutons around edge of casserole. Reheat red and green peppers and mound them in the center. Makes 8 servings.
(I tried this one years ago and didn't have half of the ingredients and it still came out good! Can't wait to try it the right way!)
Ham and Macaroni and Cheese (from the oamc digest)
8 oz. elbow macaroni
1 tsp. salt
1/4 tsp. pepper
3 cups shredded cheese
2 cups cubed ham
2 cups thin white suace (recipe follows)
Heat oven to 375 degrees. Cook macaroni and drain. Place half of the macaroni in and 2 qt casserole dish. Sprinkle with half the cheese. Add all of ham. Top with remaining macaroni and cheese. Pour white sauce over casserole. Cover and bake for 30 minutes.
THIN WHITE SAUCE (for macaroni and cheese)
1 Tbsp. margarine
1 Tbsp. flour
1/2 tsp. salt
1/4 tsp. pepper
1 cup milk
Melt butter. Blend in flour, salt and pepper. Cook over low heat, stirring constantly, until mixture is smooth and bubbly. Remove from heat. Stir in milk. Heat to boiling, stirring constantly. Boil and stir 1 minute. Use as directed in recipe for macaroni and cheese.
Notes from a tired oamc cook (don't know who this was!): I was tired and worn out at this point. I decided that the Ham and Macaroni and cheese would have to be a SAR (Some Assembly Required) meal. I placed three cups of cheese in a qt. size freezer — then I placed 2 cup bag another qt size freezer bag. I placed a rubber band around these and froze them. At meal time – I will use this recipe. I will stir in the ham before baking.
The following recipes are from "Dinner's Ready" by Andrew Schloss and Ken Bookman, a "chain cooking" cookbook, where you make completely different meals out of leftovers from previous meals. These look good. Where there is a leftover used, I posted that recipe too, in case you wanted to do it their way or adapt these recipes.
Hoppin' John Soup (Dinner's Ready)
3 slices reserved honey baked ham
2 tsp corn oil
1 med onion, finely chopped
pinch of crushed red pepper flakes
1/2 cup long grain rice
6 cups chicken broth, canned or homemade
2 cups reserved Spicy Corn and Black-eyed Pea Succotash (recipe follows)
salt and pepper to taste
1 tsp cider vinegar
2 tbsp chopped parsley
1. Dice the reserved ham. Heat the oil in a large heavy saucepan. Add the ham, onion, and pepper flakes, and cook over medium heat until the onion has softened, about 2 minutes.
2. Add the rice and toss to coat with oil. Add the chicken broth and simmer 12 minutes until the rice is barely tender.
Add the succotash, salt and pepper and simmer for 5 more minutes. Stir in the vinegar and parsley and serve. 4 servings
Spicy Corn and Black-eyed Pea Succotash
1 cup dried black-eyed peas
4 cups of cold water
1/2 med onion, finely chopped
1/2 red bell pepper, finely diced
2 tsp corn oil
2 tsp chili powder
4 tsp ground cumin
pinch of red pepper flakes
pinch of sugar
salt and pepper to taste
2 cans (7 oz each) corn kernels, drained
1. Combine the black-eyed peas with the water in a heavy saucepan and bring to a boil. Boil for 2 minutes, remove from heat, cover and set aside for 1 hour.
2. Drain well and wash out the saucepan. Rinse the peas and return to the pan and cover with 4 more cups of water. Bring to a boil, reduce heat, cover and simmer for 1 hour more or until peas are soft. Drain and set aside.
3. Meanwhile, cook the onion and bell pepper in the corn oil in a large skillet over medium heat until softened. Add the chili powder, cumin, pepper flakes, and sugar.
4. Stir and cook 1 minute. Season with salt and black pepper.
5. When the peas are done, add them to the onion mixture. Stir in the corn and heat through. Reserve 2 cups (for Hoppin John soup) and serve the rest. (The original dinner menu was Honey Baked Ham, the succotash, and Braised Greens, also listed)
Radiatore Carbonara (Dinner's Ready)
1 pound radiatore (I think these are wheel-shaped pasta!)
3 eggs at room temperature
1/4 cup buttermilk, half and half or sour cream
1/4 cup freshly grated Parmesan (imported is best!)
2 tbsp grated Romano cheese (imported!)
2 slices reserved Honey Baked Ham
2 tsp olive oil
3 tbsp chopped parsley
1.Bring large pot of water to a boil and add radiatore. Cook until tender, about 10 minutes.
2. Meanwhile, set a large serving bowl in a larger bowl of warm water. Add the eggs ad beat lightly. Beat in the buttermilk, parmesan, and romano cheese. Set aside.
3. Dice the reserved ham and cook in olive oil until lightly crisped and very hot. Keep warm.
4. When the pasta is done, drain and immediately add to the egg mixture. Toss well until pasta is completely coated. Add the meat and parsley and toss. Serve immediately. 4 servings (Note: the hot pasta only partially cooks the egg yolks)
Grits Souffle' (Dinner's Ready)
3 cups water
salt and pepper to taste
3/4 cup quick cook grits
3/4 cup cheddar cheese (3 oz)
3 tbsp butter
1 slice reserved Honey Baked Ham
1/2 cup Braised Greens (recipe follows)
1 cup diced green bell pepper
3 scallions, sliced
3 egg yolks
dash of hot pepper sauce
2 to 3 tbsp cornmeal
5 egg whites
1. Bring the water to a boil and season liberally with salt and pepper. Add the grits in a thin stream, stirring constantly. Simmer for 10 minutes until thick and light. Remove from the heat and sitr in the cheddar cheese and 1 tbsp butter.
2. Meanwhile, chop the reserved ham and reserved greens. Set aside. Cook the bell pepper in 1 tbsp butter over medium high heat for 1 minute.
3. Add the scallions and ham and cook another 2 minutes. Beat this mixture into the cooked grits along withthe greens, egg yolks, and hot pepper sauce. Set aside to cool.
4. Grease a 2-quart souffle dish with the remaining butter and dust the dish with the cornmeal. Preheat oven to 400 degrees.
5. Beat the egg whites until they form soft peaks. Mix a third of the beaten whites into the cooled grits. Fold in remaining whites in 2 additions. Pour the batter gently into the souffle dish.
6. Bake for 30 minutes or until well browned, fully puffy and barely jiggling in the center when moved gently. Serve right away.
(No, this probably WON'T freeze, but sounds good!)
Braised Greens
4 pounds greens, such as chard, escarole, kale, collards, rabe, mustard, dandelions or a combination
1 medium onion, chopped
1/4 cup olive oil
pinch of crushed red pepper flakes
salt and pepper to taste
1. Trim the greens off the thick stems and wilted leaves. Place the greens in a clean sink filled with cold water and swish them back and forth to clean them. Lift the greens from the water and shake off the excess water but do not dry.
2. Cook the onion in the oil until softened, about 2 minutes. Add the pepper flakes and the greens. Toss well to coat the greens with oil. Cover the pot and cook for 3-4 minutes, stirring once, until the greens have wilted. Uncover and continue cooking until all the water has evaporated, stirring occasionally, about 10-12 minutes.
3. Season with salt and pepper. Reserve 1/2 cup for grits souffle and serve the rest.
Ok, that's it! I will die if I type any more! Hope these help! I will let you know what I cook and how they came out! Happy Cooking, Kim 🙂
Healthy (Or Healthier!) ways to use Honey Baked Ham
Most of the recipes here are not exactly "low fat." Ham is definitely a very fatty and salty meat. If you want the taste but not the fat, here are a few suggestions:
Use as a topping on casseroles and salads – We like to eat "ham and cheese salads" instead of casseroles and other heavy dishes. Using ham as a condiment instead of as the main part of the dish will lighten it up considerably.
Use in a stirfry – Add lots of veggies and rice, or even make fried rice! Use those veggies to really stretch that meat!
In soups – You can even use the ham bone to make a great stock and just a little cut up meat for texture. Think about how little actual chicken you get in those canned chicken noodle soups! Of course, you can have more than that! It just depends on how far you want to stretch it.
Hot pockets – Double the amount of veggies and cheese, halve the amount of ham.
Hints and tips, reader's note:
Hi,
I am Extremely new at this OAMC but I am slowly trying to get going & succeed – I read your ham plan & saw that you don't keep the ham fat: I keep some & add it to my beans & ham recipe:
4 c dry beans( pintos) (I soak them overnight)
2 cups shredded ham
1 cup ham fat(cubed)
2 onions diced
1 tspn chili powder & 1 tspn paprika
2 chicken boulion cubes
I place all in crockpot on high for the day, after I cover it up to 1 inch above mixture with water. I have served this time & time again at my hubby's work group lunches & always receive calls for the recipe. I truly believe the rind & fat adds that extra flavor. I have made it with out the chicken boullion & it works too. It is up to your salt taste.
I have also done the above except decreased the shredded ham by 1/2 and added equal portions of barbecue sauce & brown sugar & 1/2 amount of water & people RAVE about it. (No boullion either)
It ALWAYS amazes me that such a simple recipe so many love. GO FIGURE?!
Have a GREAT DAY!!!!
Stephanie M.
–Thanks Stephanie!
About the Author

Kim Tilley, a tightwad at heart, is a wife, a mother of three active boys and the founding editor of Frugal-Moms.com. Frugal by force and later by choice, Kim cut her income by 60% to stay at home with her children and discovered that anyone can live better for less. Her work has appeared in print publications such as The Tightwad Gazette. In her free time, she entertains herself by chasing kids and finding ways to create something from nothing!