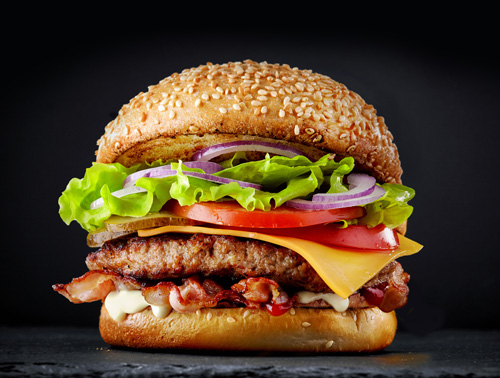 Here is my "Hamburger Plan", probably one of my most used so far. I love having all of my favorite recipes in one place, and I find myself referring back to it often.
Game Plan
Since hamburger is loose and you don't have to cut it up into different sections (such as chicken and turkey), it is much easier to handle in large quantities and very versatile. I make master recipes of some things that can be used in many recipes.
Here are many ideas pertaining to hamburger, "master recipes" are on the left, "secondary recipes" are indented – you assemble these from the master recipes. You can also freeze the portion of the master recipe that is required in the secondary recipe and assemble the secondary recipe on the day you want to eat it. I do this a lot when trying and/or learning new recipes.
Hamburger Plan Recipes:
1. Hamburger Patties(use raw hamburger)
2. Perdenales River Chili, (make a BIG batch), also used in:
taco meat
5-way chili
burritos for the freezer
ravioli filling
South of the Border lasagna
Deep Dish Mexican Pizza
chili pot pies
empanadas
3. Freezer Stash Meatballs and
4. Lean Meatballs, used in:
Italian meatball subs
spaghetti and meatballs
easy meatball stew
school night meatball soup
meatball minestrone
baked ziti and meatball casserole
chili meatball supper
Scandinavian meatballs
sweet and sour meatballs
5. Beef Porcupines
6. Italian Meatloaf
7. Italian Meatloaf sandwiches
8. Mexican Meatloaf
9. Bierrocks
10. Cheeseburger turnovers
11. Maid rites (crumbly hamburgers)
12. Simple Salisbury Steak (Campbell's soup recipe)
13. BBQ Beef (Beanless Sloppy Joes)
14. Easy goulash
15. Tortilla mini Burgers
Hamburger Patties
Using raw meat, I added some onion powder, garlic powder and some seasoning salt, or sometimes I put in a half packet of onion soup mix for each pound of hamburger. I use rubber gloves to handle the hamburger (I hate trying to get that stuff off of my hands!)
Anyhow, I made about 40 patties from six pounds of hamburger. I stacked them between waxed paper and froze on a cookie sheet. After freezing, put in a Ziploc bag.
Perdenales River Chili
I think this one could be adapted to a crockpot recipe. I am going to tinker with it, let you know how it turns out!4 pounds coarsely ground chuck (I use lean hamburger)
1 large onion, chopped
2 cloves garlic, minced
1 (28-ounce) can whole tomatoes, undrained and chopped
2 cups water
2 tablespoons chili powder
2 teaspoons salt
1 teaspoon ground oregano
1 teaspoon ground cumin
Combine meat, onion, and garlic in a large Dutch oven; cook over medium heat until meat is browned, stirring to crumble.
Drain off pan drippings. Add remaining ingredients, mixing well.
Cover and simmer 1 hour, stirring occasionally.
Yield: about 12 cups. (May want to double if you want to make all of the following recipes)
Taco meat
Use the chili as is! It makes a great taco meat! I serve it in "soft tacos" (burritos!) with cheese, lettuce, tomato, salsa and sour cream. MMM
5-way Chili
Serve Perdenales chili over cooked pasta. Top with cooked kidney beans (canned is fine), cheese, and chopped onion. Just like the Hard Times Cafe (a great chili restaurant out East!)
Burritos for the freezer
Perdenales chili
flour tortillas
cheddar cheese
refried beans (optional)
Put about a 1/4 cup of meat (eyeball it) in the center of the tortilla, top with cheese and beans. Roll up tightly and place seam side down on a cookie sheet and freeze.
When frozen, put in Ziploc bag.To reheat, microwave on high for 2-3 minutes.
Ravioli
I have a half-moon shaped press I use to make these called the "Pocket Gourmet." Here is the recipe from the booklet, with my modifications to make if you don't have this press (has three sizes, really neat to do turnovers, pastries, all kinds of stuff!)for the dough:
3 cups flour
3 eggs
1-2 tsp salt (to taste)
1/4 cup water
2 tbsp olive oil
Beat eggs. Add flour and salt, mix together. Use hands to press into a firm ball of dough. If too moist, add more flour.
Place ball of dough on a lightly flourd surface and knead for 5-10 minutes until smooth.
Cover with a towel and let rest for 10-15 minutes.
Roll dough with the rolling pin on a lightly floured surface until paper thin. Dough should be used immediately to avoid drying out.
How to assemble ravioli:
If you don't have the press, place the filling in small mounds (according to the size you want) about an inch apart from each other on HALF of the dough.
Take a basting brush and lightly brush water between each filling mound but not on it. The water is your "glue" to stick the pasta together.Fold other half of dough (with no filling) over top the half with filling on it, pressing AROUND each filling mound to seal in the filling.
Cut into squares between the sealed filling mounds.Place on waxed paper or greased cookie sheet and freeze (make sure they don't stick to the cookie sheet and rip!) When frozen, place in ziploc bag.To serve, bring water to a boil. Put in frozen ravioli and cook 3-5 minutes or until al dente. Top with hot tomato sauce, alfredo sauce, whatever you like! Enjoy!
I have also just cooked them in sauce instead of water and they cook up fine.(If you have the press, cut out the circles of dough with the bottom of the press, place one circle in press, add a little filling and brush water on one half of the dough edges. Press closed, making sure the filling is sealed in. Freeze on cookie sheet)
South-of-the Border Lasagna
1 pound ground beef (or perdenales chili)
1 (15-ounce) can tomato sauce
1 (8-ounce) can tomato sauce
1 (1 1/4-ounce) package taco seasoning mix
1 (4.5-ounce) can chopped green chiles, divided
4 (12-inch) flour tortillas
1 (8-ounce) container refrigerated guacamole dip
1 cup (4 ounces) shredded Monterey Jack cheese, divided
1 jalapeno pepper, sliced and seeded (optional)
(Don't have to do this step if you use the Perdenales chili)
Brown ground beef in a skillet, stirring until it crumbles; drain.Bring tomato sauce and taco seasoning mix to a boil in a medium saucepan.
Reduce heat; simmer 10 minutes. Remove from heat, and reserve 1/4 cup mixture.Add beef and half of green chiles to remaining tomato sauce.
Place 1 flour tortilla on a greased 12-inch pizza pan.(I would use a casserole dish or cake pan, lined with foil so you can lift it out later to freeze) Layer with half of meat sauce, 1 tortilla, guacamole dip, half of Monterey Jack cheese, and remaining green chiles.
Top with 1 tortilla, remaining meat sauce, remaining tortilla, and reserved 1/4 cup tomato sauce.Bake lasagna at 350 degrees for 30 minutes.
Sprinkle evenly with remaining half of cheese, and bake 5 more minutes. Top with jalapeno slices, if desired. Makes 4 servings.
Kim's note: You can skip the guacamole if its presence causes a riot at your house. I love guacamole, but not the mutiny it inspires in the rest of my crew! Mild salsa would be a delicious substitute. I am going to tinker with this recipe, I will post the results.
Deep Dish Mexican Pizza – from "Fresh N' Easy Cookbook" pamphlet from Wyler's Bouillon)
For Crust:
2 1/2 cups biscuit baking mix (use bisquick or following recipe)
1/2 cup cornmeal (any kind, masa harina is best)
1/2 cup water
1/4 cup margarine or butter, melted
Preheat oven to 425 degrees. In a medium bowl (or food processor) , combine above ingredients, mixing well.
Grease a 15 x 10 inch baking pan/ casserole dish (this recipe makes a lot, you could use two smaller dishes, like pie plates)
Pat dough on bottom and up sides of well greased pan/casserole dish. Bake 10 minutes, remove from oven.
For Pizza:
1 pound ground beef (or Perdenales chili)
1/2 cup chopped onion
1 can (8 oz) your favorite tomato sauce
1 can green chilies (optional)
2 tsp or 1 cube beef bouillon
1 tsp chili powder
1/4 tsp ground cumin
1 can (16 oz) refried beans
1 1/2 cups shredded cheddar cheese
chopped tomatoes
shredded lettuce
slice pitted olives
any other toppings of your choice
Prepare beef filling as follows or use your own (leftover chili works great!): brown onion and beef in large skillet, pour off fat. Add tomato sauce, chilies, bouillon, chili powder and cumin.
Cook and stir until bouillon dissolves.Spread beans over crust, spread meat mixture evely over beans. Top with cheese.
Bake 10 minutes.Garnish with tomatoes, lettuce and olives (or other toppings).
Serves 6-8, refrigerate or freeze leftovers (this recipe is even better after a day or two in the fridge!)
Notes: I use whatever I have on hand for this recipe. I have use the following homemade biscuit mix, but I have even made biscuit diugh and added the cornmeal, and then done the recipe.
For the beans, I have used all kinds, they all work good as long as they are kind of thick for spreading.
For the meat, I have used leftover chili, goulash, ground turkey, Italian sausage, whatever you have on hand! The cheeses can be any kind, a little cheddar can go a long way if mixed with other cheeses. Do not worry if you are missing a few spices. It tastes great even if you don't have cumin or (heaven forbid!) if you run out of chili powder.
Basic Biscuit Mix
10 cups all purpose flour
1/3 cup baking powder
1 tbsp salt
2 cups shortening
Mix dry ingredients in a huge bowl. Cut in shortening with pastry blender, OR (this is what I do), combine 2 1/2 cups of the dry ingredients and 1/2 cup shortening in the food processor, gradually combining all of dry mix with shortening. Keep tightly sealed.
At room temp, it keeps a few months, longer in the fridge.
I usually use all of my mix up in a month so I keep it in my baking supplies.Use the mix to make the following:
Pancakes: 2 cups mix, 1 cup milk, 2 eggs
Waffles: 2 cups mix, 2 tbsp veg. oil, 1 egg, 1 1/3 cups milk
Dumplings: 2 cups mix, 2/3 cup milk
Other ideas: use in place of Bisquick in recipes
Chili pot pies
Prepare a double recipe for the cornmeal biscuit crust (from Deep Dish Mexican Pizza). You can make one large pot pie or individual ones (those pans to make jumbo-sized muffins are perfect for this).
Grease the muffin pan (or cake pan, whatever you are using), line bottom and sides with half of crust.
Bake at 350 degrees for 10 minutes, fill with Perdenales chili, add top crust, bake again another 10 minutes or until top crust is done.
When cool, carefully take out of muffin pan (you can use liners if this is too difficult, or line big pan with foil if you are making one large chili pot pie).Freeze.
To serve, microwave for a few minutes on medium or reheat in oven for 1/2 hour at 300 (I am guessing here) degrees.
Other suggestions: Fill with ground beef and cheese, shredded barbecued chicken, shredded bbq pork, bbq beef (beanless sloppy joes).
Empanadas (ehm-pah-NYAH-dahs)
This is not the "authentic recipe" but it is good and not too labor intensive.
You need:
One recipe of your favorite pastry dough
Perdenales or other favorite chili
Make up pastry dough. Roll out dough to 1/2 inch thick. Using a cup or biscuit cutter, cut out small circles.
Place a small teaspoon or less of chili in the middle of each one. Brush one edge with a little water.
Fold edges together to seal. Bend to resemble a crescent moon and crimp edges with side of fork.
At this point you could freeze them or you could bake then freeze them.
Bake for whatever your pastry recipes indicates, 400 degrees for 5 minutes, or until lightly browned and crispy.
Freeze on cookie sheet. Serve as an appetizer or main dish with other Mexican/Spanish accompaniments (ie refried beans, spanish rice, etc)
Freezer Stash Meatballs
(all of the next 7 or 8 recipes came from Busy Cooks and links from there. Please check out Lynn's site, she is a wealth of information!)
Makes 48 meatballs; 8 servings
3 pounds lean ground beef
1 1/2 cups soft bread crumbs
3 eggs
6 tablespoons minced onion
3 cloves garlic, crushed
1 1/2 teaspoons salt
1/2 teaspoon pepper
Preheat oven to 400.In a large bowl, mix beef, crumbs, eggs, onion, garlic, salt and pepper.
Shape into 11/2-inch meatballs. (A miniature ice cream scoop makes fast work of shaping.)Arrange in two 10-by-15-inch jelly roll pans.
Bake in preheated oven until meat is browned, with no trace of pink and juices run clear, 10 to 13 minutes.
Drain, let cool to room temperature, divide into thirds and freeze each portion in vapor-moisture proof containers or use in one of following.
Lean Meatballs
Work Time: 25 minutes
Total Time: 40 to 45 minutes
3 slices firm white bread, diced
1 pound lean ground beef
1 pound lean ground turkey
2 large egg whites
1/3 cup grated Romano or Parmesan cheese
3 tablespoons grated onion
2 tablespoons minced fresh parsley
1 teaspoon salt
1/4 teaspoon coarsely ground black pepper
1 garlic clove, minced
Preheat oven to 425 degrees F.
Line 15 1/2″ by 10 1/2″ jelly-roll pan with foil; spray foil with nonstick cooking spray.In large bowl, combine diced bread and 1/3 cup water.
With hand, mix until bread is evenly moistened. Add ground beef and remaining ingredients. With hand, mix until well combined.
Shape meat mixture into twenty-four 2-inch meatballs. (For easier shaping, use slightly wet hands.)
Place meatballs in jelly-roll pan and bake 15 to 20 minutes, until cooked through and lightly browned.
Each meatball: About 70 calories, 9 g protein, 2 g carbohydrate, 3 g total fat (1 g saturated), 24 mg cholesterol, 140 mg sodium.Note: To thaw meatballs for use in recipes, place frozen meatballs in refrigerator overnight.
Or, unwrap frozen meatballs and place on microwave-safe plate. In microwave oven, cook on Medium (50 percent power) 2 to 4 minutes until just thawed.
Italian Meatball Sandwiches/Subs
Makes 4 servings
1 teaspoon oil
3/4 cup EACH: bell pepper strips, thin onion wedges
1/3 Freezer Stash Meatballs, thawed in refrigerator
1 14-ounce jar prepared spaghetti sauce
4 hoagie rolls, split
1/2 cup shredded mozzarella cheese (optional)
In a large nonstick skillet, heat oil over medium-high until very hot.
Add peppers and onions and cook, stirring, until tender, 3 to 4 minutes.Reduce heat to medium-low. Add thawed, cooked meatballs and spaghetti sauce.
Cover and cook, stirring occasionally, until heated through, 5 to 6 minutes.
Divide among rolls and, if desired, sprinkle with cheese.
Nutrients each without cheese: 457 calories, 19 grams fat (37.4 percent total calories), 126 milligrams cholesterol, 1,073 milligrams sodium.
Spaghetti and Meatballs – pretty self-explanatory!
Easy Meatball Stew
Makes 4 servings
1 12-ounce jar brown beef gravy (I would use homemade, or thicken some beef bouillon)
1 8-ounce can stewed tomatoes, undrained
3/4 cup water
3/4 teaspoon dried thyme leaves
1/8 teaspoon pepper
1 16-ounce bag frozen vegetables with potatoes
1/3 Freezer Stash Meatballs
In a large saucepan, bring gravy, tomatoes, water, thyme and pepper to a boil. Stir in vegetables. Reduce heat and simmer until vegetables are tender, 10 to 15 minutes. Stir in thawed, cooked meatballs and heat through, about 5 minutes.
School-Night Meatball Soup
1/2 cup regular long-grain rice
2 cans (13 3/4 to 14 1/2 ounces each) chicken broth
3 medium carrots, sliced
3 medium celery stalks, sliced
5 ounces prewashed spinach (half 10-ounce bag)
8 frozen Lean Meatballs, thawed and sliced
shredded or grated Parmesan cheese (optional)
In 1-quart saucepan, heat 1 cup water to boiling over high heat. Add rice; heat to boiling.
Reduce heat to low; cover and simmer 15 to 20 minutes until water is absorbed and rice is tender.
Meanwhile, in 4-quart saucepan, heat chicken broth and 2 cups water to boiling over high heat. Add carrots and celery; heat to boiling.
Reduce heat to low; cover and simmer 5 to 7 minutes, until vegetables are tender.
Stir in spinach, rice, and sliced meatballs; heat through.
Serve soup with Parmesan cheese if you like.
Each serving without Parmesan cheese: About 300 calories, 25 g protein, 30 g carbohydrate, 7 g total fat (3 g saturated), 51 mg cholesterol, 1010 mg sodium.
Meatball Minestrone
This hearty, flavorful main dish soup is ready in about 20 minutes using freezer meatballs.
24 cooked meatballs
15 oz can navy or other white beans, drained
1 pkt beef bouillon
1 tbsp dried minced onion
1 tsp basil
1 bay leaf
4 cups water
1 cup ditali, orzo or other pasta
16 oz tomatoes, cut up (undrained)
10 oz frozen mixed vegetables, thawed
1 tsp sugar
grated Parmesan cheese
In a 4 quart saucepan combine meatballs, beans, bouillon, onion, basil, bay leaf and water and bring to a boil.
Add pasta and cook for 15 minutes. Add undrained tomatoes, vegetables and sugar and heat through.
Serve in individual bowls, topped with grated parmesan cheese.
Yield: 6 servings
Sunday Baked Ziti & Meatball Casserole
1 package (16 ounces) ziti or penne pasta
4 cups Big-Batch Tomato Sauce (your favorite sauce is fine)
1 large egg
1 container (15 ounces) part-skim ricotta cheese
2 tablespoons grated Parmesan cheese
1 tablespoon chopped fresh parsley
1/2 teaspoon salt
1/4 teaspoon coarsely ground black pepper
8 Lean Meatballs, thawed and sliced
1 package (4 ounces) shredded part-skim mozzarella cheese (1 cup)
In saucepot, prepare pasta as label directs in boiling salted water; drain. Return pasta to saucepot.
Meanwhile, in 3-quart saucepan, heat tomato sauce, covered, until hot over medium-low heat. (If tomato sauce is frozen, add 2 tablespoons water to saucepan to prevent scorching.)
Add 3 cups sauce to pasta in saucepot; toss well. Reserve remaining 1 cup sauce.
In medium bowl, stir together egg, ricotta cheese, Parmesan cheese, parsley, salt, and pepper. Preheat oven to 400 degrees F.
Into 3 1/2- to 4-quart shallow casserole or 13″ by 9″ glass baking dish, spoon half the pasta mixture; top with all the sliced meatballs.
Drop ricotta-cheese mixture by spoonfuls evenly over meatball layer. Spoon remaining pasta mixture over ricotta-cheese layer, then spoon remaining 1 cup sauce over pasta. Sprinkle with shredded mozzarella cheese.
Bake, uncovered, 25 minutes or until very hot and cheese browns slightly.
Chili Meatballs Supper
A Tex-Mex flavored dish that goes together fast with meatballs from the freezer.
1 onion, chopped
1 small green pepper, chopped
16 oz can tomatoes, cut up
16 oz kidney beans, drained
8 oz can corn
8 oz can tomato sauce
1 tsp salt
2 tsp chili powder
1 bay leaf
24 cooked meatballs (frozen or thawed)
Cheddar cheese, grated
Corn chips
In a saucepan, combine onion, pepper, tomatoes, kidney beans, undrained corn, tomato sauce, salt, chili powder and bay leaf.
Bring to a boil. Add meatballs, cover and simmer for 45 minutes, stirring occasionally.
Remove bay leaf. Serve in individual bowls, topped with cheese and corn chips on the side.
Yield: 4 servings.
Scandinavian Meatballs
This rich and creamy dish, seasoned with dill is made in minutes by using cooked meatballs from your freezer. Serve with egg noodles.
1 cup sour cream
1 cup water
3 Tbsp flour
1 pkt beef bouillon granules
1/2 t dried dill weed
24 cooked meatballs (frozen or thawed)
In a medium saucepan blend sour cream, water, flour, bouillon granules, and dill.
Cook over medium heat until thick and bubbly, stirring occasionally.
Add meatballs to sauce. Cook for 15 to 20 minutes or until meatballs are hot, stirring occasionally.
Serve over hot egg noodles.
Yield: 4 servings.
Sweet and Sour Meatballs
This is not that sticky red sauce, but a sophisticated contrast of sweet and sour flavors and various textures. Serve these Oriental inspired meatballs with white rice.
20 oz can pineapple chunks in juice
1/2 cup water
1/4 cup cider vinegar
1/4 cup brown sugar
1 tsp soy sauce
2 Tbsp cornstarch
1 small green pepper, cut into 1/2 inch squares
5 oz sliced water chestnuts
20 cooked meatballs
Drain the pineapple chunks, reserving 3/4 cup of juice (if there is not enough, add water to make 3/4 cup).
Combine juice, additional 1/2 cup water, vinegar, soy sauce, brown sugar and cornstarch in a medium saucepan and stir until sugar and cornstarch dissolve.Cook over low heat until thick and bubbling, stirring constantly.
Add green peppers, meatballs, water chestnuts and 1 cup of pineapple chunks (use the rest elsewhere). Heat until meatballs are hot, stirring frequently. Serve with white rice.
Yield: 4 servings.
Beef Porcupines
This is another great recipe from The Kids Cookbook, by Patricia Barrett and Rosemary Dalton. I got this book for my eighth birthday and still have it! I LOVE it! It is probably not in print anymore, but if you see a copy, pick it up! This was the first dinner I ever cooked (with lots of help from Mom!), and I have loved cooking ever since.
1 pound hamburger
1/2 cup cooked rice
1 small onion, chopped
1 tsp salt
1/4 tsp pepper
1 egg
1 8oz can marinara sauce (or 1 cup your favorite tomato sauce)
1/8 cup salad oil
1 can beef consomme' OR 1 cup hot water plus one beef bouillon cube
1 cup water
In a medium bowl, mix ground beef, rice, onion, salt, pepper, egg, and ONLY 1/2 of the marinara sauce. Make into 8 meatballs
Put oil into the frying pan. Add meatballs. Fry in oil until lightly browned.Add the rest of the marinara sauce, consomme' and water.
Cook until tender, about 40 minutes, with the pan covered. Or bake in the oven at 350 degrees for 40 minutes. Add more water if necessary.
Serves 4
Italian Meatloaf – (crockpot) This is a wonderful and easy recipe! This keeps well in fridge or freezer. If making a lot, you can cook in the oven at 350 for 1 hour, but I enjoy doing this one in the crockpot. I do this one off of the top of my head, so I hope I get the ingredients right!
2 pounds of ground beef
1 egg
1 onion chopped
1/2 cup spaghetti sauce
1 cup Italian breadcrumbs
1 tsp Italian seasoning (or sprinkle in some basil and oregano)
salt and pepper to taste (I think I use 1/2 tsp salt, 1/4 tsp pepper)
2 tbsp spaghetti sauce
aluminum foil
Mix together first seven ingredients (everything BUT the 2 tbsp spaghetti sauce and the aluminum foil!)
Shape into a round loaf to fit into crockpot (or put in loaf pans if baking in the oven).Take a long length(2 feet) of aluminum foil, folding in half lengthwise, so it is long and thin. Line the crockpot with the foil, making sure the foil sticks out of the crock pot on both sides (you will use this to lift the meatloaf out).
Place meatloaf in crockpot. Top with the remaining 2 tbsp of spaghetti sauce.
Cook on low for 5-6 hours or high for 2-3 hours. You can also bake this for 1 hour at 350 in the oven. (It is best slow cooked, but good any which way!)
Italian Meatloaf Sandwiches – Save leftover meatloaf (or make extra!) and slice and serve on Italian bread, top with some spaghetti sauce .
Mexican Meatloaf – This rich, flavorful meatloaf was another prize winner from the Miami Herald. (I got this from a link on Busycooks)
1 1/2 lb lean ground beef
1 1/2 lb bulk sausage
16 oz can Mexican-Style stewed tomatoes
8 oz canned green chopped chiles
2 eggs
3 tbsp + 2 tsp tapioca
1 1/2 tsp dried minced onions
1/2 tsp cumin
1/4 tsp salt
1 1/2 cups salsa
1 cup shredded jack or Cheddar cheese
Mix all ingredients except salsa and cheese in a large bowl until well combined.Divide in half and shape into loaves. Place each in a 9″ x 4″ loaf pan. Top each with 3/4 cup salsa.Bake at 350 degrees for 1 1/2 hours. If the sausage makes a lot of grease drain it once or twice while cooking.Top with cheese and return to oven until cheese melts.Remove to serving platter and let rest for 15 minutes before slicing.This one might make a good sandwich too!
Bierrocks – (Another winner from the Busycooks site.) – These pastry pockets filled with beef, cabbage, onions and cheese can go straight from the freezer to the oven. They're great served with a bowl of hot tomato soup. My husband has nicknamed these "Irish Cheeseburgers." We love them!
2 c milk, lukewarm
1/4 c oil
2 eggs, beaten
2 pkg yeast
1/2 c sugar
1 t salt
6 c flour2 lb ground beef
1/2 head cabbage, chopped
1 large onion, chopped
18 slices American cheese
1 egg, beaten (optional)
sesame seeds, to garnish (optional)
Mix together the lukewarm milk and oil in a large bowl. Add the eggs, yeast, sugar, salt and 5 cups of flour.
Mix well and add remaining flour as necessary to to form a kneadable dough. Knead a few minutes.
Cover bowl and let dough rise one hour in a warm place.Meanwhile, brown beef in a large skillet. Do not drain.
Add onion and cabbage and continue cooking until onion is soft. Add salt and pepper to taste. Let cool.
After dough has risen, roll out hunks of dough (about the size of a tennis ball) as thin as possible.
Place 1/2 slice cheese on dough, top with some filling, then the other half slice of cheese. Fold over and seal like a turnover (moistening the edges with water may help seal them).Place on a baking sheet, brush with egg wash and sprinkle with sesame seeds (optional) and bake at 350 degrees for about 30 minutes or until golden.Serve immediately or cool and freeze. To reheat frozen, simply bake until hot.
Yield: about 18 Bierrocks.
Kim's note: These are delicious, even for non cabbage lovers! The secret is the American cheese; do not substitute other cheeses, they just don't make it taste the same. This dough is rich and wonderful too. It would be great to use for "hot pockets" and calzones.
Cheeseburger Turnovers:
The idea here is the same as the empanadas, just bigger. Use chili or browned ground beef and American or cheddar cheese as the filling. You can make half-moon shaped turnovers or square ones, with your favorite pastry or biscuit recipe. They are almost identical to the ham and cheese hot pockets I posted in the ham plan.
Maid Rites – (crumbly hamburgers)
1 pound ground beef
1 onion chopped
seasonings of your choice
toppings of your choice
hamburger buns or Kaiser rollsBrown the beef and onions, drain off fat. Add the seasonings to taste.( You can freeze this at this point if you like, or use it as a "quick and easy" dinner)Serve on hamburger buns or kaiser rolls with toppings of your choice (lettuce, tomato, whatever)Simple Salisbury Steak – (Campbell's soup recipe)
1 can of mushroom soup
1 pound of ground beef
1/3 cup dry bread crumbs
1 egg, beaten
1/4 cup finely chopped onion
1 1/2 cups sliced fresh mushroomsIn a bowl, mix together 1/4 cup of the soup, beef, bread crumbs, egg, and onion. Shape firmly into 6 patties. (If you are using raw meat, you can freeze it now and brown the mushrooms and freeze them too, or you can freeze everything after cooking)In a skillet over medium heat, cook patties, a few at a time, until browned on both sides, spoon off fat, set aside.Stir in remaining soup and mushrooms, return the patties to the skillet, reduce heat to low, cover and simmer 20 minutes or until done, turning patties occassionally.(You can freeze it cooked. To serve, thaw and put on top of cooked pasta, serve with steamed veggies and salad. MMMM)
BBQ Beef – (beanless sloppy joes) –
This is a recipe from my mother-in-law. I have made it and frozen it plenty of times, it always turns out great! I make triple batches (one batch is 2 meals for us) so I always have lots on hand!
1 pound ground beef
1 onion, chopped
1 can corned beef
3/4 cup ketchup (try Maul's barbecue sauce, it's wonderful instead of ketchup!)
1/4 cup brown sugar
1 cup water
1 cup beef broth (I use 1 cup water and 1 bouillon cube)
1 tsp chili powder
2 tsp white vinegar
Brown beef and onion, drain off fat.
Add remaining ingredients, making sure to break up corned beef. Bring to a boil, then reduce heat and simmer for 30 minutes, until thickened.
Serve on hamburger buns or kaiser rolls.

Easy Goulash
Another recipe from the in-laws, very easy and versatile, we use whatever is on hand. I have added TVP to this recipe (and the barbecue beef), substituting up to half of the ground beef, but remember – tvp expands! use a half cup, it will grow to a whole cup (or a little less). I have not frozen this one before, but in the fridge it gets better by the day! By the way, the men in our family love to make this, even dh!
1 pound ground beef
1 onion, chopped
1 can stewed tomatoes
1 can V-8 or other tomato juice
1 can kidney beans (if you want)
1 cup pasta (if you want)
your choice of veggies (sometime we put in leftover corn, sometimes nothing)
a few hot peppers (optional)
2 tbsp chili powder
salt and pepper to taste
other seasoning to taste-cumin, garlic powder, onion powder, etc.
Brown beef and onion. Drain off fat.
Add remaining ingredients except any pasta, bring to a boil. Simmer for 30-60 minutes. Towards the end of the cooking, add the pasta and cook for about 5-10 minutes. Serve with quesadillas or bread. Leftovers are great!

TORTILLA MINI-BURGERS
This recipe calls for grilling, but you could fry these up easily and freeze. You could also broil them.
2 pounds lean ground beef
1/2 cup Italian-seasoned breadcrumbs
1 large egg
1 (10-ounce) can diced tomatoes and green chiles, drained
1 tablespoon chopped fresh cilantro
1/4 teaspoon salt
1 (8-ounce) package Monterey Jack cheese, cut into 24 slices
24 (6-inch) flour tortillas
1 (8-ounce) jar picante sauce
1/2 cup ketchup
Combine first 6 ingredients; shape into 24 small patties.
Place in 2 grill baskets coated with vegetable cooking spray.
Grill, without grill lid, over medium-high heat (350° to 400°) 4 to 5 minutes on each side or until done.
Open grill baskets, and top each burger with cheese. (Do not reclose grill baskets.) Cook until cheese melts.
Heat tortillas according to package directions; keep warm. Combine picante sauce and ketchup. Spread 1 tablespoon mixture on 1 side of each tortilla, and place a burger, cheese side up, near top edge. Fold bottom edge up, and fold opposite sides over. Makes 24 mini-burgers.

About the Author

Kim Tilley, a tightwad at heart, is a wife, a mother of three active boys and the founding editor of Frugal-Moms.com. Frugal by force and later by choice, Kim cut her income by 60% to stay at home with her children and discovered that anyone can live better for less. Her work has appeared in print publications such as The Tightwad Gazette. In her free time, she entertains herself by chasing kids and finding ways to create something from nothing!