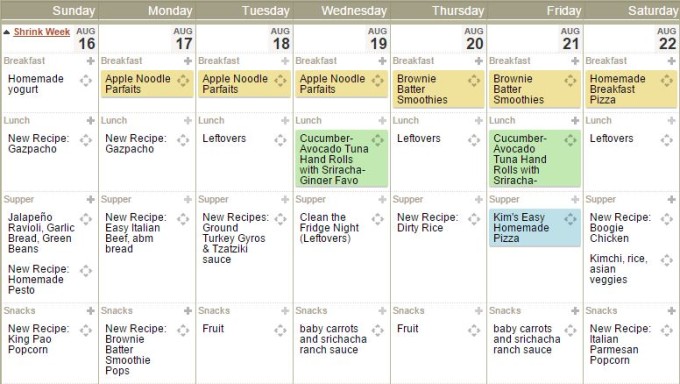 I'm actually not trying any new recipes this week, because I'm making so many of my own! I have tons of milk that needs to be made into yogurt. The garden is starting to pump things out, and I want to take advantage of that. Also, it's back to school time, so I thought I'd post some of the tried and true recipes we use around here. These are often not on paper- they're embedded in the corners of my brain somewhere and I have to excavate them!
I have a bad habit of looking at a recipe and changing half the ingredients and instructions when I make it. Everyone likes it and wants to know what the recipe is. Well, most of it's now in my head! I sometimes I have to dig up the original recipe to look at it and remember what I changed and what I did. It's just the way I am. I seem to be in another world when I cook. 🙂 So I'll be excavating a few more over next week that are perfect for this time of year.
I'm also instituting a weekly "Clean Out the Fridge" night at our place that goes beyond just leftovers. Seems like there's just more waste than there needs to be, which includes leftovers that never gotten eaten or frozen. We're noticing that some of the produce I get at Aldi and on clearance is going bad faster than we can get around to using it. So I'm going to try getting things processed as they come into the house- chopping, blanching and freezing, etc. I'll also check the fridge more regularly, especially on trash night, so everything that needs to be frozen or used up is done before it ends up having to to go the chickens, the compost pile or the trash. That could be a hidden way to lower our grocery bill, by lowering the amount of waste in the first place.
What are you making this week?
New Recipes:
Homemade Pesto
Kung Pao Popcorn
Gazpacho
Ground Turkey Gyros
Tzatziki Sauce
Easy Italian Beef
Brownie Batter Smoothie Pops
Dirty Rice
Boogie Chicken
Italian Parmesan Popcorn
Everything Else:
Homemade Yogurt (from The Complete Tightwad Gazette by Amy Dacyzyn)
Apple Noodle Parfaits
Cucumber-Avocado Tuna Handrolls
Brownie Batter Smoothies
Kim's Easy Homemade Pizza
Deals: $130.39
I wasn't really that excited about the deals this week. Kroger has milk on sale for $1.88 a gallon, which is pretty good. They've also got school supplies on sale. Their split chicken breasts were .99/lb, so I picked up a few. Not much stuff on clearance at all. I can usually find great deals on marked down bread, meat, produce and dairy. I guess the word is out!
I did pick up some beef. $3.99/lb was the best price I could find, which is kind of depressing. I remember when it was so much less. We rarely eat it any more. I'm making Italian Beef this week, and I picked up some chuck steak for Bulgogi some time later. I'm planning a "no spend" week next week, so I also tried to make sure my regular stuff was decently stocked. I may have to go back for ketchup and peanut butter. The big guys ate anything and everything this summer. Now that Teen Foodie is back in school and Mr. Foodie just might be back to work, maybe I can finally replenish things.
I found a lot of small-sized diapers on clearance at Walmart this week, mostly size 1 and 2 diapers of many different manufacturers. Baby Foodie is too small for these, but if you know someone who is expecting or has a small baby, have them check their Walmart to see if they're being cleared out there as well. (Each Walmart is different and does their inventory differently, apparently).
I also hit Walmart for school supplies this week and did pretty well. They usually do have the lowest prices on these, though it really is amazing how much the price changes when you slap a movie character on something:
Kroger: 50.69
1 pkg clearance hoagie rolls .79
1 bunch cilantro .79
1 pkg pita bread 1.79
1 bunch collard greens .77
5 lb bag masa corn flour (gluten free) 2.79
1 lb turkey smoked sausage 2.50
10 lbs split chicken breasts @ .99/lb
4 lbs chuck roast @ 4.49/lb
2 lbs chuck steak @ 3.99/lb
3 Lara bars @ .99 ea
Aldi: 79.70
12 6oz yogurts @ .39 ea (teenager)
1 12-pk fruit flavored water 6.99 (teenager)
1 lb roma tomatoes .99
1 bag tortilla chips 2.39
1 pkg tortillas 1.19
1 pkg extra large tortillas 1.49
1 box graham crackers 1.35
1 box generic Cheerios 1.69
1 box generic Rice Krispies 1.79
1 box trash bags 4.99
1 box qtips 1.39
3 cans tuna fish @ .65 ea
1 jug organic apple juice 2.49
3 lbs ground turkey @ 1.89 ea
1 jar grape jelly 1.45
1 jar raspberry preserves 2.09
1 jar strawberry preserves 1.49
2 cans diced tomatoes @ .55 ea
1 loaf split wheat top bread .99
1 loaf oat bran bread 1.39
1 loaf white whole grain bread .99
6 lbs bananas @ .38/lb
2 bags navel oranges @ 1.99 ea
1 lb smoked turkey 3.29
1 pkg bologna .95
1 pkg American cheese slices 1.79
1- 33.9 oz can of ground coffee 5.49
2 cans black beans @ .59 ea
2 cucumbers @ .49 ea
1 lb shredded mozzerella 2.99
1-5lb bag flour 1.49
1 lb bacon 2.99
1 jar hazelnut spread 1.99