I discovered Ali's wonderful blog, Inspiralized , a few months ago and fell in love with spiralizers. They really make cooking fun and healthy, and the possibilities are endless! My family especially loves apple noodles, because you can make them for breakfast, snacks or dessert in so many wonderful ways.
This recipe is inspired by Ali's wonderful Pear Noodle Yogurt Parfaits.  I love them but wanted something a little more frugal and universal, something I could make no matter what's in season or where I'm shopping- Aldi, the farmer's market, or my own garden. So we "frugalized" it with apples, any kind of yogurt (Greek gets expensive) and uncooked oats instead of granola.
It's a cross between a yogurt parfait and the overnight oat dishes are that popular on many food blogs. The oats soak up extra moisture from regular (and runny) yogurts, making the dish thicker like the more expensive Greek yogurts. You can use homemade yogurt and even failed yogurts that are too runny in this- just add more oats and make the night before. Don't have yogurt? Use a milk of your choice (cow, soy, almond, coconut, etc)  and more oats.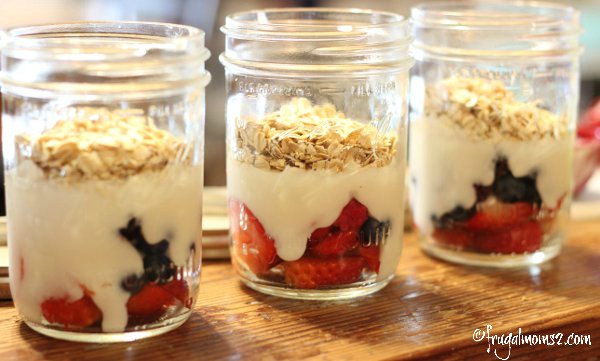 This is a  wonderful fix ahead breakfast or snack for people on the go. I make them ahead on Sundays and take them to work for breakfast for part of the week. By the time I'm through the latest batch, I'm ready for something different. Easy, peasy, healthy and cheap!
Note: Apples will brown a little no matter what you do. Some varieties brown worse than others. I have really good luck with Granny Smiths. I make these parfaits ahead and eat them for three  or four days. They're a little brown by then but taste fine, even on the fourth day. Tossing them in lemon juice helps retard some of the browning and adds a wonderful taste (try pairing with blueberries!) Or you can use Fruit-Fresh
 or any other ascorbic acid used in canning.
Apple Noodle Parfaits
In 10 minutes or less, you can have a delicious, healthy, on the go breakfast for pennies.
Ingredients
2 apples
2 cups yogurt any kind- vanilla is great
1 cup fruit/berries (frozen or fresh, whatever is on sale or in season)
1 cup uncooked oats
Optional: bananas, nuts, dried fruit or chocolate chips
Instructions
Spiralize the apples. (I like to use two different kinds- a sweet one and a tart green one.) Set aside in a large bowl.
Divide the fruit or berries between the four pint sized mason jars and place in the bottom.
Cover fruit/berries with ½ cup yogurt in each jar.
Add ¼ cup uncooked oats to each jar, as well as nuts and optional dried fruits, chocolate chips, etc.
Top with spiralized apples to fill the jar.
Take with you for an easy, delicious breakfast on the go.
To eat:
Empty into a coffee cup or bowl. Or if you have enough room in the jar, stir and eat.
Notes
Add any combination of fruits, nuts, dried fruits, and other garnishes- chocolate chips, coconut, etc. The sky is the limit! Have fun with what's in season and your favorite taste combinations.
Fun combinations: 
You can get pretty crazy with these. Aldi always has some great produce picks of the week that are very inexpensive. Check the farmer's markets or the loss leaders at your favorite grocery store. Or why not the backyard? Strawberries, gooseberries, even mulberries would be great in these! The possibilities are endless!
Tip: Make and freeze your fruit combos ahead of time in baggies, then plop them into the jars the night before when you're making your parfaits.
Mango, banana, pineapple, coconut
Mixed berries- raspberry, blackberry, blueberry, strawberry
Peach and blackberry
Bananas and walnuts
Raspberry and chocolate chip
Peanuts, dates, apples (kind of a caramel or candy apple thing going on there)
Peanut butter, bananas, and chocolate chip
Fresh mint leaves, raspberries, chocolate chips
Cinnamon and raisins
And many more!