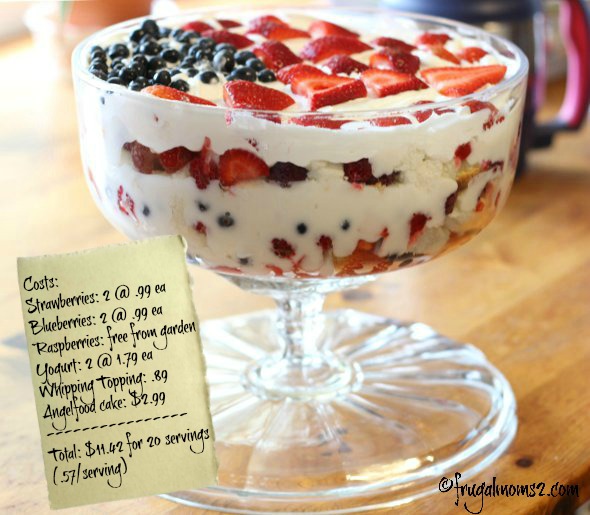 They say imitation is the best form of flattery. It can also be downright scrumptious.
I was planning on making a traditional flag cake for our 4th of July cookout, but when I saw this "Patriotic Berry Trifle" in a Kroger ad, I knew I had to make it!
But there wasn't a recipe on the flyer or on the Kroger website. I went searching and finally found some fancy, detailed instructions here on YouTube. So I started to watch, and was interrupted several times by children, so I tried again. As they started talking about glazing the angelfood cake, my eyes started to glaze over too. Just way too many steps for me. I wouldn't mind it so much except I'm not in a phase of my life where I can concentrate for long portions of time without little people doing something crazy. I need simple, straightforward, frugal, and fast! So I winged it, and came up with this.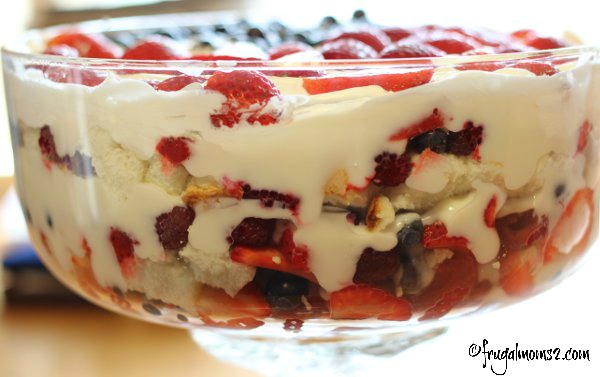 Frugal Moms Flag Berry Trifle
This berry trifle is quick and easy to make, with just a few ingredients. Berries are at their best (and cheapest) in early July, which makes this Patriotic Berry Trifle frugal, delicious and healthy! I used an upside down cake plate to hold this trifle, and used any leftover berries and yogurt to make
Apple Noodle Parfaits
.
Ingredients
1 large angelfood cake, cubed into ½ inch squares
1½ 32-oz containers vanilla yogurt of your choice
2 quarts of strawberries, hulled and sliced
2 pint of blueberries
1 pint of raspberries
½ container of whipped topping
Instructions
Place a third of the strawberries, blueberries and raspberries in a layer on the bottom of the bowl/cake plate or whatever serving dish you're using.
Top with a layer of ½ of the angelfood cake cubes, then 2 cups of yogurt.
Repeat layers- berries, cake, yogurt.
Top with remaining raspberries.
Place a layer of whipped topping on top of the raspberries, then garnish with strawberries and blueberries in a flag design,
Cover with plastic wrap and chill for an hour or until ready to serve.
Notes
We served 9 people easily, with LOTS of leftovers. I'm guessing there were about 20 servings. It didn't last long though! You can make this in a deeper dish and do more layers, more cake, if you like. Get creative!

Save any leftover ingredients and make individual parfaits in mason jars. Delicious!