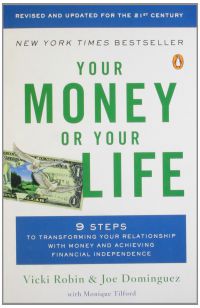 We're continuing our summary and discussion of Chapter 1 of Your Money or Your Life by Joe Dominguez and Vicki Robin. I wanted to dedicate an entire post to this exercise because it can easily get overwhelming. The authors clearly state that this step can actually be skipped for now and done later. But don't skip it entirely. Knowledge is power, and the self-knowledge this step generates is very powerful. It can also be a nerve wracking roller coaster ride. So here it is:
Step 1: Making Peace with the Past: 
A:) Find out how much you have earned in your lifetime.
B.) Find our your net worth by creating a personal balance sheets of assets and liabilities.
A.) Life Earnings: 
This is every penny you've made for your entire lifetime. That can seem overwhelming, so start with the easiest stuff- the taxable stuff. Check your tax returns or the annual statements from Social Security showing your recorded life wages are a great starting point. Here's Financial Integrity.com's checklist to help you get started: 
Locate your Social Security Administration (SSA) "Statement of Earnings." The SSA sends out these statements annually. If you don't have a recent copy you can visit your local SSA office or go to their website to request one.Your SSA statement lists your reported income since you started working

Recall or gather records of money received that is not reflected in your SSA Statement.

Find out the current balances on your bank accounts, loans and other debts. (Check your statements, call your bank).

Get an idea of the current value of your house, car and other valuable possessions.
But Joe and Vicki urge you to dig deeper- write down those jobs that didn't get taxed. Babysitting jobs, side jobs, under the table jobs, lawn mowing, birthday and Christmas cash gifts, you name it. The object is to get an accurate picture of all the money that's ever entered your life.  Most people have no idea what this number is. It's enlightening to find out. Try to create as accurate a picture as you can. Estimate if you have to, but take the time to really dig deep. It pays off.
Remember: your life earnings represent just a number, not your number. ~Joe & Vicki Robin
B.) What Do You Have to Show for It? 
Many of us have been working for wages our entire adult lives. That means a certain amount of money has entered our lives. But what do we have to show for it? The difference between what's entered our lives and what is left is our net worth.
Your net worth= total assets – total liabilities
The Personal Balance Sheet
This is the tough part folks. For some people, it may just take a few days, but if you're a pack rat, like me, it may takes months to asses what your true net worth is. Take all the time you like, but don't skip this step. The good news is, there's a free spreadsheet to help you through this process!  (The same site has a great resource called 31 Days to Organize Your Finances that's worth checking out.)
You can also download the Financial Integrity guide for free. The Step 1 section has a lot of good examples. I'm posting a few screenshots here as well:
When you're ready, come back and post your thoughts here. They can be totally anonymous. Just keep them honest.
Go through your material universe and list everything you own (assets) and everything you owe (liabilities)
Assets should include:
Liquid Assets-cash or anything easily converted into cash
Fixed Assets- physical possessions (literally EVERYTHING you own, and the resale value of it right now). Start with the big stuff- car, house, etc, but also include that riding lawn mower, your scrapbooking supplies, your dishes and housewares, the stuff in your garage, basement, your clothes. YES, everything! If you had to sell it now, what would it be worth? Check prices on Craigslist, eBay, Kelly blue book, etc. For me, this is the hardest part. I have a huge farmhouse FULL of stuff!
So much dissatisfaction comes from focusing on what we don't have that the simple exercise of acknowledging what we do have can transform our outlook. ~Joe & Vicki Robin
What we focus on really does expand. How often are we counting our problems and not our blessings? This is an eye opening step to see how much we really DO have. It can also give you some ideas of what you may be able to get rid of later in this exercise to increase your net worth.
Liabilities should include everything you own, whether that debt is in money, goods or services. This includes loans, credit cards, and any bills that are outstanding (unpaid medical bills, back child support, etc)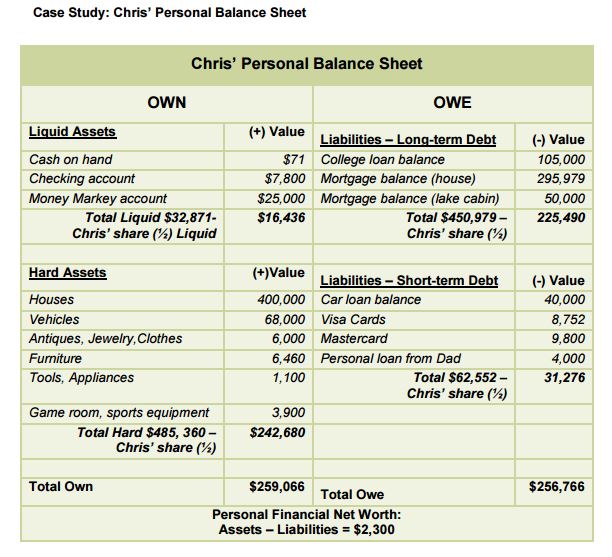 Figure your net worth: Add all of your assets (liquid + fixed) and subtract your liabilities.
Whatever your find, it's important to remember that net worth does not equal self worth. ~Joe & Vicki Robin
Discussion questions: 
What did you discover in this exercise?
How did you feel doing the exercise?
What would you change?
What wouldn't you change?
How do you feel now?
Please feel free to add your thoughts and ideas below!