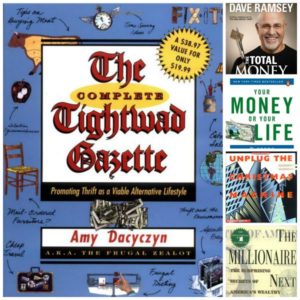 Whether you're new to frugality, or an old hand at it, there are certain books that are classics in this niche. They're worth reading if you haven't gotten around to it. They're also worth re-reading, especially if you're feeling like you've lost your frugal "mojo". Reading just a few pages a day of any of the following books is a great way to refresh your frugal soul, generate new ideas and get excited again about your frugal journey. It can also help you reconnect with why you're frugal in the first place.
Sometimes we all need that extra boost, especially in a society where we are constantly bombarded by advertisements telling us we need more, and that we're somehow not enough. So grab a copy from the library, your kindle, your bookshelf or your favorite used bookstore and rekindle your frugal fires!
Update 8/6/2015: I'm excited to announce that we'll be reading through most of these books in the next 6 months on Frugal Moms²! I'll have more details soon!
1. The Complete Tightwad Gazette by Amy Dacyczyn: This is considered the "Bible" of frugal living, and for good reason. Amy blazed the trail for many pennypinchers in the early 1990s with her monthly print newsletter, The Tightwad Gazette. It became very popular and garnered national media attention at a time when living so frugally was generally looked down upon. Everyone had money to burn, so why be frugal? She definitely stood out from the crowd, and in the process, changed many people's thinking about frugality, and their lives as well.
I subscribed to this newsletter, and fell in love with it. When I heard she was closing it down in 1996, I wrote her a letter of encouragement to express my appreciation and what she had done for me and my family. That letter actually appears in the The Complete Tightwad Gazette (page 910), so yes, I'm a little partial to this book! It will always be one of my favorites, because Amy started my own frugal journey, enabling me to stay home with my children when I didn't even think it was possible. She was a catalyst in my own life, and why Frugal Moms existed. She's also one of the reasons why, all these years later, I'm here doing Frugal Moms².
2. The Total Money Makeover by Dave Ramsey: Dave Ramsey had to go from wealth to bankruptcy and back again twice before he figured out how to really live within his means. Once he finally got it, he came up with a way to teach others how to do the same. He has gone on to write many other books, and has developed courses and tools to help people learn to manage their money. His podcasts and videos are both instructional and entertaining. He has literally built an empire on what he teaches, and has remained a success over the years because what he teaches really works.
His "Seven Baby Steps" are life changing. I personally used them to pay off over $30,000 in debt (credit, medical, etc) after a very painful divorce. It took me seven years to pay everything off, and in that timeframe, I got remarried, had two more babies, and for a while was paying child support and daycare at the same time. Today I am still using these steps to pay off the remainder of my student loan and my mortgage. Some day I'll be debt-free, and doing the debt-free scream on his show! I highly recommend Dave's products to novices as well as experienced tightwads!
3. Your Money or Your Life by Vicki Robin and Joe Dominguez: Another life-changing, eye-opening book. Amy Daczyczyn recommended this book in her newsletter, and for good reason. Vicki and Joe's 9-step process is an excellent and hair-raising adventure through your personal finances. So many of us are on a hamster wheel, just getting by, but not really getting anywhere. This book really forces you to take a hard look at that hamster wheel and why you're there. Why not get off and do something more meaningful? It also forces you to take a hard look at what your actual net worth is. I remember doing this with my first husband and was totally shocked. It's time to reread this treasure and take a good hard look once again, as I find myself trying to get off of another hamster wheel.
4. Unplug the Christmas Machine by Jo Robinson: Speaking of hamster wheels, if you find yourself on one every time December rolls around, this book is the one to read, regardless of what month it currently is! There are so many financial and cultural rituals embedded in us around Christmas time. This book takes a close look at those, and why we do what we do. It also offers a way out of the madness. It offers lots of practical advice on reducing the stress of the holidays and truly enjoying them with your family and friends. Much of this advice could also be applied to other annual, stress-inducing, money-hungry traditions we torture ourselves with, such as birthdays and anniversaries.
5. The Millionaire Next Door by Thomas J Stanley: We all dream of being and living rich, but what do real millionaires actually look and act like? You may be surprised! Many of them are frugal, and that's why many of them are millionaires to begin with and manage to hold onto their money. Most of them look ordinary and live ordinary lives, at least to the casual observer. This book is a great motivator to "keep on keepin' on!" (Note: This book is free to read if you have a Kindle Unlimited subscription.)
What are some of your favorite frugal books? Share them below!
Please note: this post contains affiliate links, which help provide a small amount of income to cover expenses on Frugal Moms². I do not promote anything I do not use myself and love.