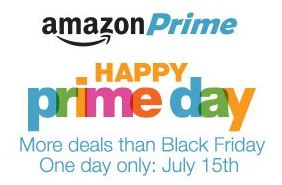 Today is Amazon Prime Day! It's like Black Friday, except we're no near the holidays (thank God!) Think of it like Christmas in July. I've been an Amazon customer almost since the beginning, and still get a lot of great deals there. In fact, I find myself ordering more online as the local stores' inventories shrink to only the basics. Recently I had to purchase a video card for my son's computer because Walmart stopped carrying them a few months ago. I was surprised that I couldn't find one locally at all!
I've been a Prime member
for a few years and love the two day shipping. In fact, I just got a notification that my son's video card is on its way and we should have it by tonight. He'll be thrilled! There are also a lot of other benefits- a ton of free music and video that rivals Pandora and Netflix, free previews of unpublished ebooks if you own a Kindle, free cloud storage of your photos and so much more.
You can also share your membership with up to 4 other people, even if they live somewhere else! My family does this, and everyone can use Prime from their own account. You can also share your entire digital library with anyone who has an account with your same billing address. That means I can share any ebooks, music or videos I buy with my teenager or my husband, but they don't have to log into my account to see them. Nice!
You can try Prime for free for 30 days by clicking here
.
Today, Kindle Unlimited
is also on sale for up to 40% off if you pay ahead of time. This is a great service. It gives you access to a huge library of current ebooks, from the comfort of your home. Many new books are available free on Kindle Unlimited, from fiction, to do it yourself books and everything in between.
Some other things going on:
Lightning deals on just about everything
A photo contest and chance to win $10,000 in Amazon gift cards
A chance to win $25,000 by listening to free music on Amazon Prime
So much more!
They're really pulling out the stops, so check it out: Amazon Prime Day
Disclosure: I'm an Amazon Affiliate, because I love their services and products. I don't sell or recommend anything on Frugal Moms² that I don't love and use myself.