Ah, baby steps. Do you remember them from the movie "What About Bob"?
Bill Murray plays Bob, a dependent mental health patient who stalks his egotistical psychiatrist (Richard Dreyfuss) down on vacation because he couldn't get through even a couple of days without him. The psychiatrist had written a new book about "baby steps" that he gave to Bob to try to get rid of him. Instead, Bob uses the book to overcome his fears and drive his psychiatrist crazy! It's a hilarious movie, as Bob is constantly muttering to himself, "Baby steps! Baby steps!"
Well, this year my garden is all about baby steps! We have been trying to redo our entire garden for months, but the endless rain is making it nearly impossible. We've had seven inches in the last week! The weeds love it. The critters happily continue to munch on everything. But nothing ever seems to dry out long enough to do much. And when it does, it always seems to be on a day I'm working or dealing with a sick kid, an appointment, or some other craziness.
So I've taken to "micro gardening"- garden tasks I can do in very small chunks of time that will help improve our garden, flower beds, etc. I figure if we can just keep moving forward, working around the weather and our crazy schedules, that eventually things will get done. Once things are in and protected, they seem to do quite well. All of my trees and bushes I've planted this spring are going gangbusters. The rhubarb and strawberries are recovering nicely too. Raising the beds has been a good idea, but there's so much left to do.
The trick is just GETTING IT DONE at this point! UGH. So we're breaking it down into smaller steps. Baby steps!  Here are some of the micro tasks my husband and I have done in the past week:
Saturday: (2 hours, while baby napped)
-Till around outside of garden (hubby)
-Put in garden stakes (hubby)
-Place fencing around garden (hubby)
-Cage 4 tomato plants
-Tie 2 cherry tomatoes with string
-Place chicken wire around all tomato cages to deter critters
-Hoe weeds in 3 raised beds
-Plant 3 blueberry bushes in chicken wire cages
-Pull weeds in strawberry bed
-Moved two stray Jerusalem artichokes to their new home
-Harvest more garlic scapes
Sunday: (Father's Day)
-Secure fencing to stakes (hubby had an itch to get it done)
-Pick raspberries with kids
-Pick black raspberries with kids
Monday: (30 minutes after work, leftovers for dinner, storm clouds rolling in)
-Find old flower seeds
-Sprinkle seeds on outside border of garden (kids helped)
-Pray they actually grow!
-Weed flower beds a little while baby plays next to them
Tuesday: (30 minutes after work, outside with kids while bulgogi marinated and rice cooked)
-Water flower seeds
-Move 2 tomato volunteers (probably cherry) to main tomato bed
-Divide and plant 3 basil pots between tomatoes (sweet basil, cinnamon basil and thai basil)
-Plant chard seedlings (no cages- testing to see if the critters can get to them) Update: THEY ATE THEM ALL!! ARGH!!!!
-Pull a few weeds, leaving more tomato volunteers to get big enough for next time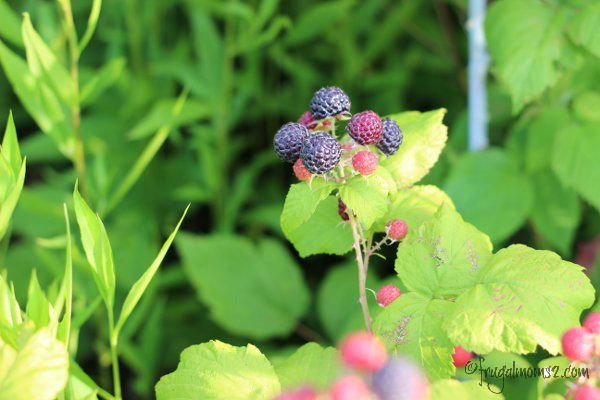 Friday: (rain all day!)
-Root heirloom tomato suckers from 3 large store bought plants (bought on clearance at Kroger)
-Try not to tear all hair out.
-Drink wine.
Saturday: (5 hours because finally, a perfect day!)
-Pick more berries for freezer (raspberries and mulberries)
-Finish harvesting garlic scapes
-Chop, label and freeze garlic scapes
-Move chives, green onions and thyme to strawberry bed (good companions)
-Put chicken wire around lower part of fence (only had enough for half, ugh)
-Add flowers around outside of fence from fields- daisies, rudbeckia, gaillardia, catmint, cornflowers, and bee balm.
Tasks I plan to do in the next week:
-Start seeds for pumpkins, butternut squash, zucchini and summer squash with kids
-Start seeds for more herbs and flowers
–Order sweet potatoes online (some day I'll do my own starts, but I like this place)
-Finish 3rd raised bed
-Plant 3rd bed with zucchini and summer squash
-Place butternuts and pumpkins in field
-make potato tower cages
-make small chicken wire cages for seedlings
-finish planting tomatoes and tomatillos, top with cages
-move elderberry starts to north side of house
I'm sure there's a ton more I can do, but my brain just can't think about it yet. Baby steps!